Understand what the product is
MSPbots.ai develops and deploys Bots that can automate Administrative tasks, shorten processes, and convert data into actionable items.
How it works
MSPbots gathers the data from your PSA, AAD, Accounting Software, and create datasets and reports. From there it analyzes the data and converts those into actionable events. Complete the Get Started for the bots to show available data in Bots, Attendance, Reports, and Datasets
---
This can help MSPs scale operations, increase staff productivity, and elevate human potential. Automate common task, situations caused by "human error", and scenarios like
Reviewing Support tickets if it was done properly by the technicians
Alerts technicians when needed to complete a task before it goes overdue
Improve customer satisfaction, with quicker response times and a better understanding by the technician
Analyze business data in real-time and automate monitoring, ensuring to meet the Service Level Agreements
---
Key functions
Bots Tab
Helps you identify opportunities to automate a specific workflow.
The Bots will communicate to the users via Teams.
It is important to install the
MSPbots app
from the App store as this is how the bot would communicate to the users.
This can trigger an alert to be sent out to the technician when it meets the conditions of the event. Alert message includes the detail of the workflow and what is the next best action.
You can also enable the Escalation sequence to include the Technician's Managers in the loop.
Attendance Board
Can give Managers valuable insight into their team's workflow and efficiency.
Allows you to view your team's activity levels across the day to enhance customer service and improve business continuity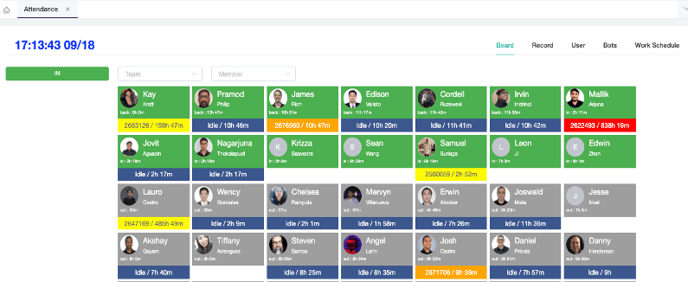 Reports and Datasets
Provides you flexibility in building, viewing, and generating reports in Data grind and pivot tables. Giving management the ability to review the following in just one application:
Accounting or Finance reports
Bot reports for when it is triggered, used, and send out a reminder to technicians
Attendance records for Payroll processes
Tickets status, data logs, TimeEntry, and utilization reports
---