This article will guide you to address the issue with not receiving alert bots messages
From the MSPbots Teams App
Check if the MSP Team Apps is not blocked
Right-click on the MSPBots icon

Check if the option is "Block".
IF yes, then messages are not blocked by the App
IF no, click the 'Unblock'. Verify if you can now receive Alert Bot messages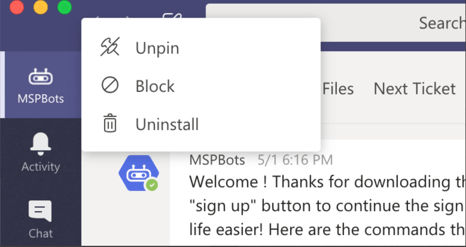 Verify if the MSPBots Team App is updated. The current updated version is (1.17)
Click the 'About' tab and check the version.
IF the version is not 1.17, go to the Microsoft Teams App source. And download the latest version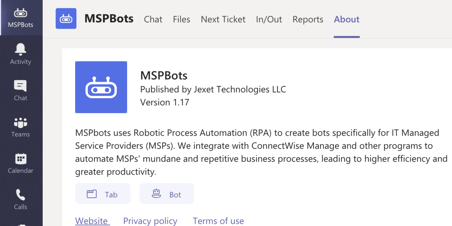 ---
From the app.mspbots.ai
Check if 'Teams' has been set-up already from the Get started page
From User Management
Locate the user that is unable to receive the bot messages

Scroll to the right then click the Edit option
Go to the Message Switch to make sure it is enabled for the user

If it is disabled, click to switch it back on
Then click Confirm